The Shops
For us, ski rental is a family affair. Gilbert Pavesi, a ski instructor during the 70s, soon realised that good skis were indispensable for learning to ski quickly and well. And so he set up his own shop.
Nowadays, you'll be welcomed by his daughter Josephine Pavesi and her team in three shops facing the slopes on either side of the Montgenèvre ski resort.
We can offer you all types of winter sports equipment (including cross-country ski hire), snowshoes and sledges and we will be more than happy to advise you.
The Intersport brand name and staff know-how will ensure that you ski safely.
Hire your skis online via this website and pick them up in whichever shop you choose.
You'll find Intersport Josephine PAVESI SPORT at three locations :
The « Transalpin » shop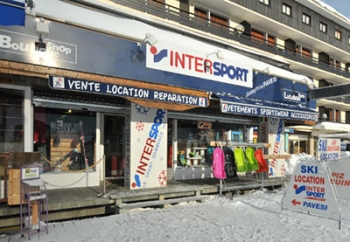 The « Transalpin », the local shop for the Chalvet area (from the village centre to the Hameau de l'Obélisque).
GPS coordinates
44°55'56.2"N 6°43'35.4"E
The « Freeride » shop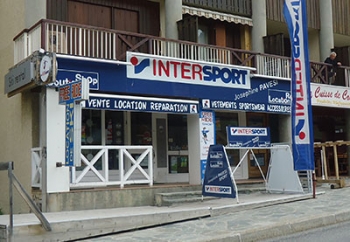 The « Freeride » shop, which is opposite the ski schools and medical surgery. It covers the Montgenèvre area between the village centre and the new Durancia spa and leisure centre, including "Le Ferme d'Augustin" residence (leaving the village towards Briançon).
GPS coordinates
44°55'51.0"N 6°43'22.1"E
Le Nouveau Magasin «Obélisque»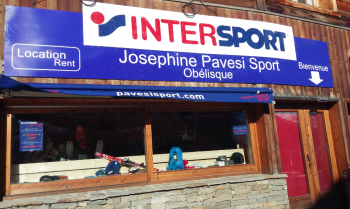 C'est avec un très grand plaisir que nous vous présentons le nouveau magasin de location de ski encore plus proche de vos logements et toujours au pied des pistes!
Il se trouve dans le Hameau de l'Obélisque, à deux pas des résidences MMV Hameau des Airelles, Chalet Blanc, CGH Les Dolines...
Coordonées GPS:
44°56'02.5"N 6°43'45.2"E
In our shops, ski lockers are made available to our customers, free of charge. Both shops are only 20 metres from the slopes. No more bickering as to who carries the kids' skis back to the apartment! Just pick up your skis every morning from our private lockers.
Adjacent to the rental area, you'll find our shopping area.
We can equip you from head to ski! You'll find:
a technical textiles area with an extensive array of brands (Salomon, Scott, Sun Valley, Quiksilver, McKinley...)
a range of accessories (Barts winter hats, Level gloves and other brands, Scott helmets, K2...)
a ski corner (of course) with a large number of French and Austrian brands
a ski boots area (with bootfitting and advice from our experienced staff)