Our Services
With over 40 years' experience, Gilbert and his daughter Josephine have acquired the experience and know-how to provide you with a customer-friendly and efficient service. With us, ski safely and make the most of what our snowy village has to offer without having to cart your skis around.
Ski lockers
Ski lockers are made available to our customers in both our shops, free of charge. These are heated locker rooms with a private area for storing your skis.
As our shops are situated at the foot of the slopes, you only have to walk 20 metres before hitting the pistes! You can access the ski lockers during shop opening hours, every day from 8.30 am to 7.00 pm.
Ski servicing expertise
We also guarantee that our rental equipment is serviced by professionals. We work in collaboration with the company Wintersteiger to guarantee a fast and modern service.
Leave your personal skis with us and we'll return them to you the following morning in tip-top condition ready to hit the slopes.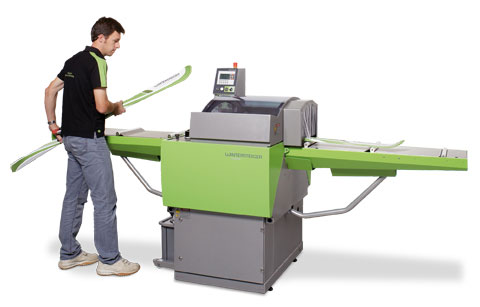 Bootfitting
We have a dedicated shopping area for ski boots. A member of our team will advise you on which boots are best for you from 40 different models (selected amongst the leading brands). Bootfitting is included when you buy a pair of boots.
Expect to spend about an hour when buying: taking advice, trying boots on and heating the shells can take some time.
Groups
Groups can easily be accommodated and our customers served efficiently in the rental area of the Intersport Josephine PAVESI SPORT 2 shop.
If you are representing a works council or an association, please contact Josephine PAVESI directly by email at intersport.Montgenèvre@gmail.com. We will quote you a price for your group's ski trip to Montgenèvre.